TANNING
TANNING
Solarium: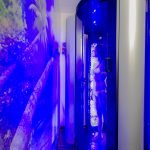 Thyphoon 5 is an extraordinary high pressure solar shower in accordance with applicable European regulations.
This solar shower allows homogeneous tan in just 10 minutes of sitting.
The solar shower comfort is guaranteed by the innovative open-panic design that eliminates the feeling of claustrophobia.
Solar -Products australian gold: the top to get the perfect tan in total safety. The secret to get a deep tan, uniform and lasting is to match a tanning activator, the most suitable protection for your skin type and the sun after more suitable for your skin type. Australian gold offers a wide range of specific products to better enhance a tan moisturizing and protecting the skin from sun aggressions and premature aging.